Horaires des Messes célébrées par les prêtres de l'Institut en Belgique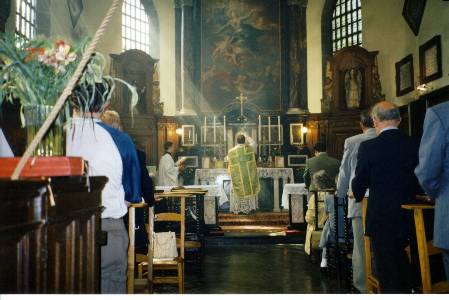 Depuis le mois de novembre 1999, l'Institut du Christ-Roi Souverain Prêtre exerce son apostolat en Belgique dans deux chapelles du diocèse de Tournai ainsi qu'à Bruxelles où la sainte Messe est célébrée selon le rituel de 1962 (Messe tridentine en latin). Dans la belle chapelle de Notre-Dame de Bon-Vouloir à Havré près de Mons, la Sainte Messe est célébrée quotidiennement selon le rite romain traditionnel, en accord avec l'Ordinaire du lieu. En cette chapelle, la Très Sainte Vierge Marie est vénérée sous le vocable de Notre-Dame de Bon-Vouloir depuis le XVème siècle. La chapelle, construite en 1627, reste aujourd'hui un lieu de pèlerinage bien connu dans la région.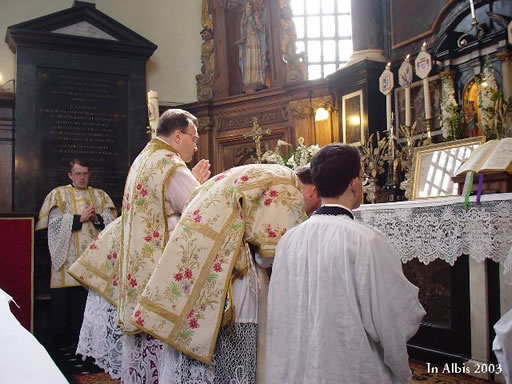 Le Dimanche à Notre-dame de Bon-Vouloir, la Messe est chantée à 11h15, et elle est suivie d'un apéritif au presbytère. Le mercredi une messe est dite à 19h00. Ont lieu également chaque année les offices de la Semaine Sainte. Dans la chapelle à Brasmenil, l'Institut a pris la succession de Monsieur l'abbé Fauvelle à la demande de l'évêque. La messe est célébrée chaque dimanche à 8h00. Chaque année, une grand'Messe rassemblant plus de 500 personnes est célébrée dans l'église paroissiale pour la fête de Sainte Rita, le 22 mai. Voir l'album 2004.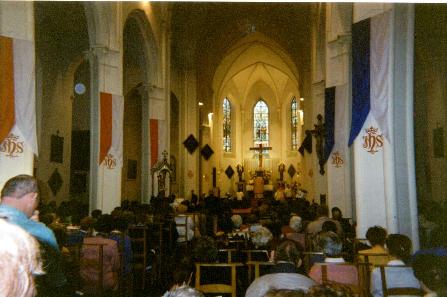 *
Mass times in Belgium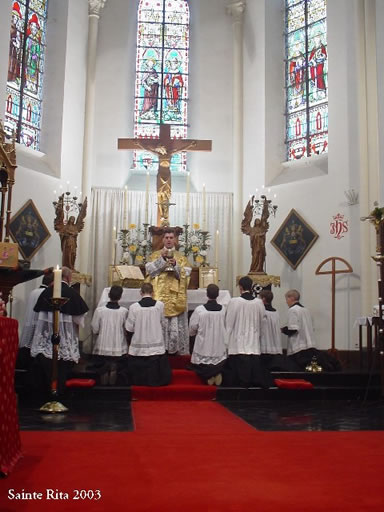 The Institute of Christ the King Sovereign Priest has been present in Belgium for three years. The Holy Mass is celebrated according to the 1962-Missal (Tridentine Latin Rite) in Havré and Brasmenil in the diocese of Tournai and also in Brussels. In the beautiful chapel dedicated to Our Lady of Good Will in Havré (near Mons) the Holy Mass is celebrated daily according to the traditional roman rite with the permission of the local Ordinary. The Most Holy Virgin, under the name of Our Lady of Good-Will has been venerated in Havré for the last six hundred years. The chapel was erected in 1627 and remains a well-known local pilgrimage destination.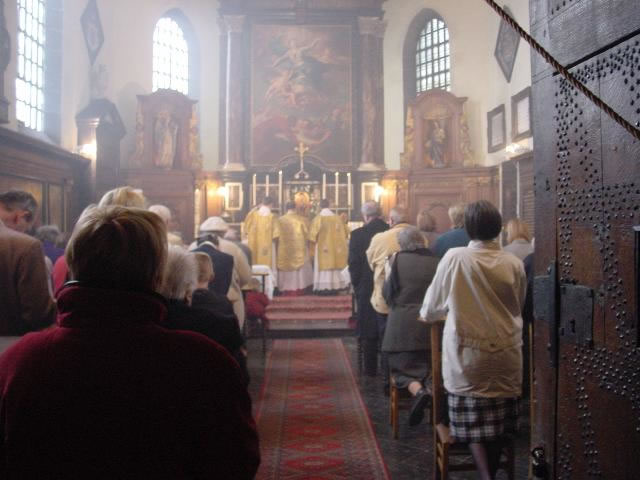 The Sunday Mass at Our Lady of Good Will chapel is celebrated at 11h15 and is followed by a drink at the chaplain's home. On Wednesdays, Mass is said at 19h00. Each year one may attend the celebrations of the Holy Week. In the chapel in Brasmenil, the Institute has taken the succession of Father Fauvelle at the Bishop's request. The Sunday Mass is celebrated at 8h00 and, each year, a Solemn Mass attended by more than 500 people is celebrated in the parish church on 22 May, Feast of Saint Rita. Check the 2004 album.